Pin It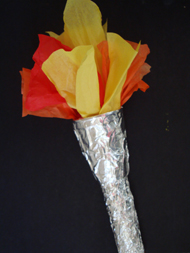 This is a great Olympic torch craft that's simple and fun to make. The one pictured is silver using aluminum foil, but the real 2012 London Olympic torch is gold, so you could substitute gold foil to match. This torch could also be equally good for a medieval Halloween costume.
Materials:
paper towel roll(or 3 toilet paper rolls tapes together)
paper cup
scissors
aluminum foil or gold foil
red, yellow, and orange tissue paper
glue
Directions:
Use the paper towel roll and trace a circle in the bottom of the paper cup and cut out.
Push the paper towel roll up ito the cup until it' almost flush with the cup.
Wrap the whole tube with foil. Tuck down inside both ends.
glue strips of red, yellow, and orange tissue paper down inside the cup.
source:
Busy Bee Kids Crafts