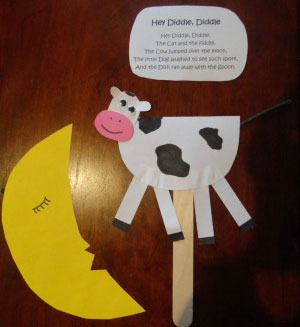 Here's another, simple craft idea for the nursery rhyme Hey Diddle Diddle(the one on the right). This website also includes a paper plate cow craft.
Materials:
Hey Diddle Diddle coloring sheet(website)
card stock or white construction paper
cow template(website)
crayons
scissors
tongue depressor or Popsicle stick
tape
box cutter or sharp knife(to be used by an adult)
Directions:
Print out the templates from the website.
It's recommended that you glue the templates to card stock or construction paper beforehand to give them strength.
Color the coloring sheet and cow.
Cut out cow and tape to a Popsicle stick to make a puppet.
The teacher cuts a slit on the dotted line of the coloring sheet. Insert the puppet and make the cow jump over the moon.
Here's the website with the templates:
All Kids Network