Pin It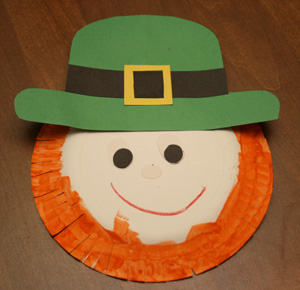 This is a cute and easy St. Patrick's Day Leprechaun craft you can do with a paper plate. Enjoy!
Materials:
1 paper plate
1 green hat shape
1 black strip for the hat band
1 yellow square frame for the buckle
black dots or eye stickers
crayons
scissors
Directions:
Cut out all the hat pieces from construction paper.
Make little cuts all along the bottom of the paper plate to simulate a beard(optional)
Color all around the rim on the back side of the paper plate with an orange crayon for red hair and beard.
Glue on the hat pieces to the top of the paper plate.
Glue on eyes and draw a face.
Variations: