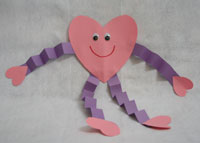 Here's a cute and simple heart guy craft just in time for Valentine's day.
Materials:
1 big, pink construction paper heart
4 small, pink construction paper hearts for hands and feet
4 purple construction paper strips for the arms and legs
2 google eyes
red marker
glue
Directions:
Make hearts by folding the paper in half and drawing half a heart on the edge.
Cut out all heart and purple strips beforehand.
Accordion fold the purple strips and glue the ends to the back of the big heart to form the arms and legs as shown.
Glue the small hearts to make the hands and feet
Glue on the eyes and draw a mouth.
You could make a whole family of heart people to decorate the walls of the class.