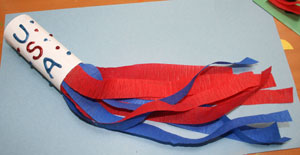 This simple 4th of July toilet roll streamer craft looks great and is easy to make.
Materials:
1 toilet paper roll
white paint or white paper
glue
red and blue glitter glue
red and blue crepe paper streamer rolls
tape
string
hole punch
Directions:
Paint your toilet roll completely white or cover completely in white paper.
Decorate with red and blue glitter glue. Draw stars and write, "USA". Allow to dry.
Cut 10 to 12 inch lengths of red and blue streamers. Cut again lengthwise so they are not too wide.
Tape the ends of the streamers to the inside of the toilet paper roll. Younger children may need help.
Punch 2 holes through either end of the top of the roll and tie a string or piece of yarn through to hang up.
Watch your 4th of July streamer blow in the wind.