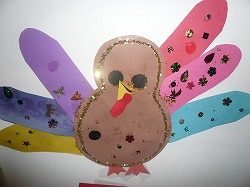 Here's a simple and cute Turkey craft from a Japanese website.
Materials:
construction paper
scissors
spangles and/or sequins
glue
glitter or glitter glue
Directions:
Cut a rounded turkey body shape from brown paper like the one shown.
Cut long, oval shaped tail feathers in various colors.
Glue the tail feathers to the back of the turkey.
Cut out and glue on pieces for the beak, waddle, eyes, and feet.
Put a line of glitter around the edge of the turkey.
Glue on spangles, sequins, or other sparkly decorations.
Peekaboo