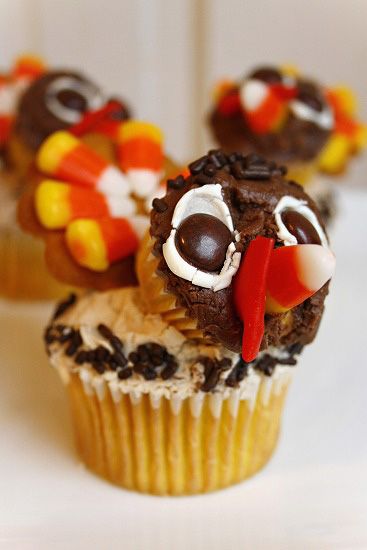 This cute Thanksgiving turkey cupcake recipe idea came from a Japanese website of someone living in America.
Recipe:
1 big cupcake(this one's pumpkin)
1 small cupcake
1 cookie(this one's gingerbread)
icing
candy corn
sprinkles
M&M's or marble chocolates
marshmallow
Directions:
Decorate the small cupcake with chocolate frosting for the head. Use a little white frosting with a M&M in the middle for the eyes. Use a candy corn for the beak. I'm not sure what they used here for the waddle, maybe a piece of fruit leather. Please experiment.
Use icing to adhere candy corn on the cookie in a fan shape for the tail feathers.
Decorate the big cupcake with light brown frosting and sprinkles around the edge.
Cut a marshmallow in half at an angle to create a wedge and prop up the cookie tail feathers as shown above.
Place the small cupcake head in front of the cookie.
Ta da! Turkey cupcakes, Gobble gobble.
Chanoma