Pin It
There are lots of Easter Bunny crafts out there, but not so many Easter Christian crafts. Here's a round-up of 8 Easter Christian crafts for kids. There are crosses, and depictions of Jesus and the Resurrection. Teach your kids the true meaning of Easter with these solemn, yet fun activities. These are perfect for homeschoolers or Sunday School.
1. Easter Rock Cross Craft
2. Stained Glass Easter Cross Craft
3. Bottle cap Easter Cross Craft
4. Easter Seashell Cross Craft
5. Easter Resurrection Garden Craft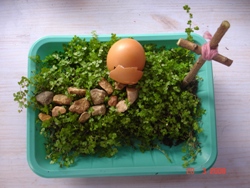 6. Easter Resurrection Paper Plate Craft
7. Printable Easter Resurrection Craft
8. Clay Pot Jesus Easter Craft
Search this site for even more Easter crafts for kids.