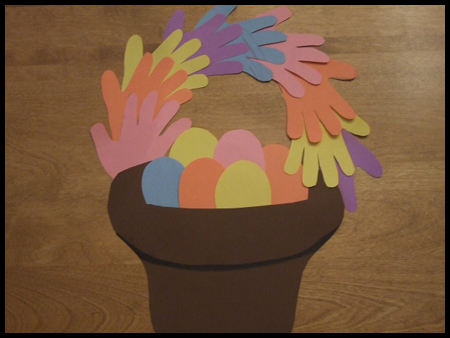 This is a really cute Easter egg basket from paper, with hand prints for a handle. It could be a simple class project for a bulletin board display
Materials:
various colored construction paper
pencil
scissors
tape
Directions:
Draw a large hat shape on brown construction paper and cut out. Cut a slit in the middle of the hat.
Trace and cut out hand prints in various Easter pastel colors. You need about 9-10 hand prints for each basket.
Also, trace and cut out lots of colorful Easter eggs.
Tape the backs of the hand prints together in an arc for the basket handle and tape to the back of the basket.
insert the Easter eggs through the slit and tape in place on the back.
Hang up your basket.