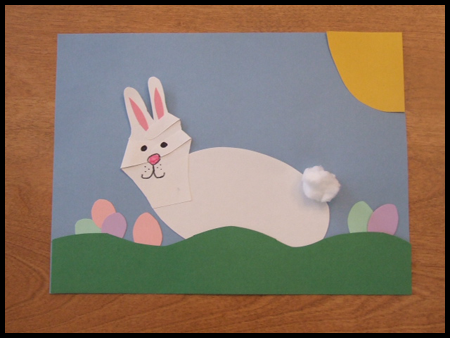 Here's an ingenious idea for an Easter Bunny scene using a hand print to make the bunny's head.
Materials:
1 sheet of blue constructon paper
various other colors of construction paper
white card stock
markers
glue
scissors
cotton ball
pencil
Directions:
First, trace a hand onto white card stock and cut out.
Fold down the thumb and last 2 fingers so you have a peace sign. Glue fingers down in place. This is the bunny's head.
Cut 2 thin ovals of pink paper and glue onto the bunny's ears.
Draw a face with markers. (It might be easier to use the back of the hand print for the face and ears.)
Cut a large oval from card stock for the body and glue near the bottom of the blue sheet of construction paper.
Cut a wavy green strip for grass and glue on top of the body.
Glue on the head, make sure the ears stand up from the paper for a 3D effect.
Glue on a cotton ball tail.
Cut and glue on oher details like a sun, eggs, basket, tree, etc.
Artists Helping Children