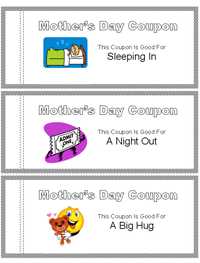 Making a Mother's Day Coupon Book redeemable for chores around the house is a great idea that keeps on giving after Mom's special day. You can find great Mother's Day Coupon templates on line. Here are directions and a list of good sites.
Materials:
printer with paper
scissors
crayons
construction paper
stickers to decorate
hole punch
brass fasteners
Directions:
Print out coupon templates and cut out.
Trace and cut 2 pieces of construction paper the same size as the coupons.
Decorate 1 paper for the cover with a message "Coupon Book for Mom" or the like. Add stickers if out like.
Punch all the papers and assemble with 2 brass fasteners.
Mom tears out 1 coupon redeemable for a chore. Add more coupons as necessary and keep it going.
Good Mother's Day Coupon Book templates from these sites:
All Kids Network
About.com Homeschooling
All Free Printables
Kaboose