Pin It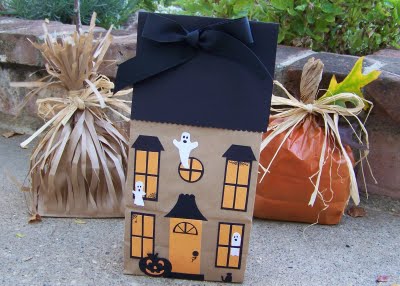 This are some a great ideas to make a Halloween haunted house decoration from a paper bag. Add a roof, windows, and details to make your house come to life. Don't forget the ghosts!
Materials:
brown paper bag
construction paper or felt in various colors
scissors
glue
old newspaper
Directions:
Cut out a large rectangle for a roof. Add a chimney.
Draw or cut out details for your house like windows, doors, Jack-o-lanterns, trees, etc. Don't forget to draw characters behind the doors.
Fill the bag with old crumpled up newspaper for shape.
Staple the roof on to finish. Or leave one flap open and fill it with candy or as party favors. Have fun, Happy Halloween.
Source:
The Paper Pony