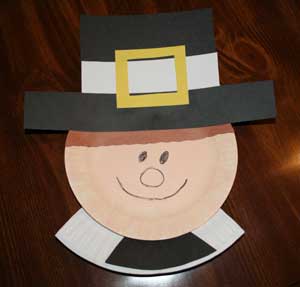 This is a great pilgrim boy craft you can make for Thanksgiving.
Materials:
pilgrim boy template(from link below)
1 large paper plate
1 small paper plate
beige or skin toned paint
black, yellow, white, and brown construction paper
scissors
tape
crayons
glue
Directions:
Paint the small paper plate beige and allow to dry.
Print out the templates
Use the template to cut a wedge from the big paper plate.
Use the other templates to cut out the pieces for the hat, hair, and collar with the appropriate colors.(the hair is brown)
Glue the hat together.
Glue the collar onto the wedge and glue it on the back of the beige paper plate at the bottom.
Glue the hair on the top.
Glue the hat on top of the hair.
Draw a face on your pilgrim boy.
Source:
All Kids Network