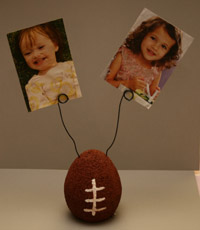 This Father's Day football picture frame is a really creative idea. I love it.
Materials:
Styrofoam egg
18 gauge wire
brown paint, brushes
sharp knife
wire cutters
white 3D paint or white out pen
pencil
favorite photos
Directions:
Cut the bottom of the Styrofoam egg so it stands up.
Paint the egg brown. Allow to dry.
Use white 3D paint to paint on the football laces or use a white out pen. Allow to dry.
Wrap the wire around a pencil 3 times to make a spiral. Cut the wire about 5 inches below the spiral.
Stick the wire into the top of the football.
Insert a couple of favorite photos into the loops of the spiral.
Variations:
Use a Styrofoam ball, white and red paint to make a baseball.
Use orange and black paint to make a basketball.
For added stability, glue the bottom of the Styrofoam ball to a square of construction paper or cardboard.
Source:
All Kids Network