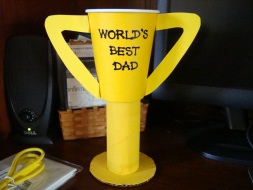 Dad will be proud to display this Father's Day Trophy craft on his desk. He can also use it s a candy dish to fill with his favorite snacks.
Materials:
handles template (from site below)
paper cup
toilet paper roll
paint and brushes
markers
old cereal box
cardboard
scissors
glue
decorations
Directions:
print out the handles and bottom template and cut out.
Trace handles and bottom template on an old cereal box and cut out. It might also be better to trace the bottom from thicker cardboard.
Paint the paper cup, toilet paper roll, handles, and bottom the color you want your trophy. The example pictured here is yellow. Gold or silver would look good. If you plan to make many for a class, it would be better to buy colored paper cups to save time. You could also cut the handles from construction paper.
Write a message on the front of the cup like, "#1 Dad", or "World's Best Dad".
Fold down the ends of he handles and glue to the sides of the cup.
Tun the cup upside down. Pipe glue along both ends of the toilet paper roll. Stick one end to the bottom of the cup and the other to the circle bottom. Dry upside down.
After drying, add other decorations as desired.
Source:
Busy Bee Kids Crafts