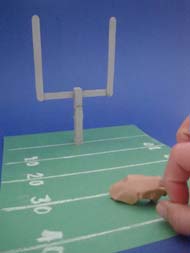 You'll have hours of fun with this simple football game craft. Also great for a Father's Day Craft.
Materials:
green construction paper

chalk

ruler

3 craft sticks

clothespin

gray paint

glue

brown paper

Playdough (optional)

Football team stickers
Directions:
Paint 3 craft sticks and a clothespin gray. Allow to dry.

Glue the craft sticks together to create the top of the goal post. Clip to the clothespin to make the bottom. It will stand on its own.

Use a ruler and chalk to draw ten yard lines to about 40 with numbers and the end zone on the green paper. You could also decorate with stickers of your favorite team and write the name in the end zone.

Crumple a piece of scrap brown paper to make a football. Or fold a sheet of paper into the triangle footballs you used to make in elementary school.

Set up the goal post in the end zone. Flick the ball through for a field goal. Put the game on the table during the big game. Play during the commercials.

If desired, anchor the goal post with some playdough or clay so it doesn't fall over.