Pin It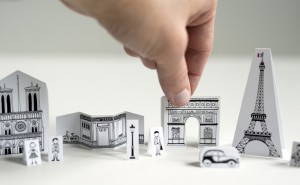 This site is amazing. It has hundreds of paper building free printables. All this original artwork can be printed, cut out, and folded into a little play city complete with cars, people, trees, and landmarks. Choose from Paris, Sydney, or a generic cityscape. Makes for hours of fun.
Materials:
computer and printer
paper city templates
card stock or thick paper
scissors
crayons and markers(optional)
Directions:
Visit the site below and print out the city templates on card stock.
If desired, color your buildings.
Cut out.
Fold at the top to create a portable cityscape that stands up on its own. Easy to store and carry.
Source:
Made by Joel