Pin It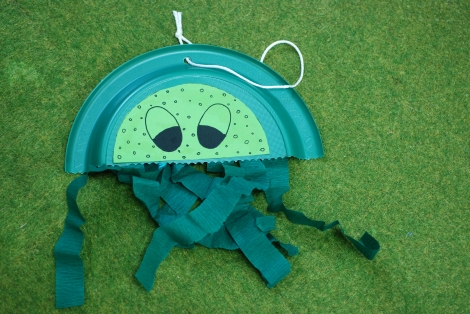 Here's a summer jellyfish craft idea from Japan. Use green plastic plate or paint a paper plate green.
Materials:
green plastic plate/ painted paper plate
scissors and craft scissors
green crepe streamers
light green construction paper
markers/crayons
hole punch
string
glue
Directions:
Cut your green plate in half using zigzag craft scissors.
Cut a half circle to fit on the bottom of the plate. Draw a jellyfish face with eyes and spots.
Glue the face on the bottom of the half plate.
Cut long crepe streamers of equal length and glue on the opposite side of the plate for tentacles.
Punch a hole in the top and tie a string to hang up.
Thanks:
Baby Scrapbooks