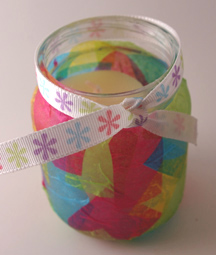 This is a beautiful Mother's day candle holder gift that looks like stained glass.
Materials:
small glass jar like a baby food jar.
colorful tissue paper
scissors
glue
brush
ribbon
candle
Directions:
Cut small squares from various colored tissue paper.
Brush white glue all over the outside of the jar.
Apply the tissue squares. Overlap to cover any gaps.
Tie a ribbon around the top.
Place a candle inside and light.
Source:
Free Preschool Crafts