Pin It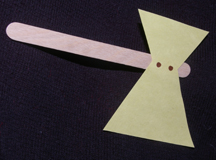 Everyone knows the story of George Washington and the cherry tree. Now here's an easy President's Day George Washington hatchet/ax craft kids can do and then reenact the story themselves.
Materials:
craft stick
yellow or grey construction paper
black marker or crayon
glue
scissors
Directions:
Draw and cut out a simple hatchet/ax as shown from yellow or grey paper.
Glue the hatchet/ax head on the craft stick.
Add 2 dots with a black crayon or marker to make the screws.
To be really fancy, cut out 2 hatchet/ax heads and sandwich the craft stick between them with glue.
Source:
Free Preschool Crafts